by Brian Moniz
Anyone who has ever been on a dating app has been down this road before — you meet someone online who messages you, "Hey handsome! You're very cute and I like your profile, I'd love to meet you sometime!" Both of you chat for a few days, maybe even a week or two, then agree to meet in person. After a little time spent together, the other guy gives you the typical rundown of cliché compliments every gay man says to each other, "You're so awesome, you're unlike all the other guys out there." "You actually seem sweet and genuine and not just looking for a hookup." "You're the man of my dreams! I'm so happy we met!" and my personal favorite, "How are you still single!?" The date goes well and you leave the night on great terms, maybe even with a kiss. Just before bed, the other guy reinforces his interest in you with a goodnight-text, "I had a great time tonight. Great to meet you and looking forward to hanging out again!" Every single one of you reading this has experienced a night like this, and unfortunately, know what is likely going to happen next.
The next morning you wake up and check your phone to see if this new handsome gentleman has left you any messages — nothing — but it is still early, so you text him, "Good morning handsome, thanks again for a great night!" An hour goes by and still no reply…maybe he's at work. Around lunchtime you send another text, "Hope you're having a nice day!" Another few hours go by and still no reply. You give him a day or two and decide to text him again, "Want to hang out again soon?" Again, nothing. You hop on Facebook or Instagram to leave him a message and can't seem to find his profile page anymore. When you log back into the dating app where you first met you discover his profile is missing altogether. That's when it hits you — he didn't delete his accounts, he deleted you.
The other person has blocked you and probably blocked your number, too. You re-trace your steps from that first night, wondering what you could have possibly said or done to turn this guy off. You pick up your phone and call him only to hear two rings before being sent to voicemail. If it went straight to voicemail that means his phone was off or dead; if it had rung many times that means he didn't see it or was away from his phone; but it rang twice, that tells you he saw his phone ringing, saw your name on it, and declined your call. You hang up and leave a text message:
"Hey (name), I hope I haven't said or done anything to upset you, you seemed really nice and I thought we had a good time. Did you delete your Facebook and Instagram? I wanted to leave you a comment earlier today but noticed we aren't connected on them anymore. If you don't want to hang out or go on another date that's a bummer but could you just tell me so at least I know that's what you want. Anyway, I hope everything is okay and you're having a nice day. Hope to hear from you, even if it's just to tell me you're not interested anymore. Thanks."
If you are even lucky enough to hear from him at all, you'll get the "Hey sorry just been super busy. You seem nice, but I honestly don't think we will work out romantically, but I'm down to stay friends?" text. Which as anyone who has ever received that text knows, there is absolutely no chance of staying friends. You read that text and put your phone away knowing you will never see or hear from that individual again. Like I said, that's if he decides to contact you back at all. Most of the time he will just delete you everywhere, block your number and move on to the next guy he finds on a dating app. You may even run into him on the street or in a bar, to which he will make awkward eye contact, give you a guilty half-smile and avoid any contact until one of you leaves.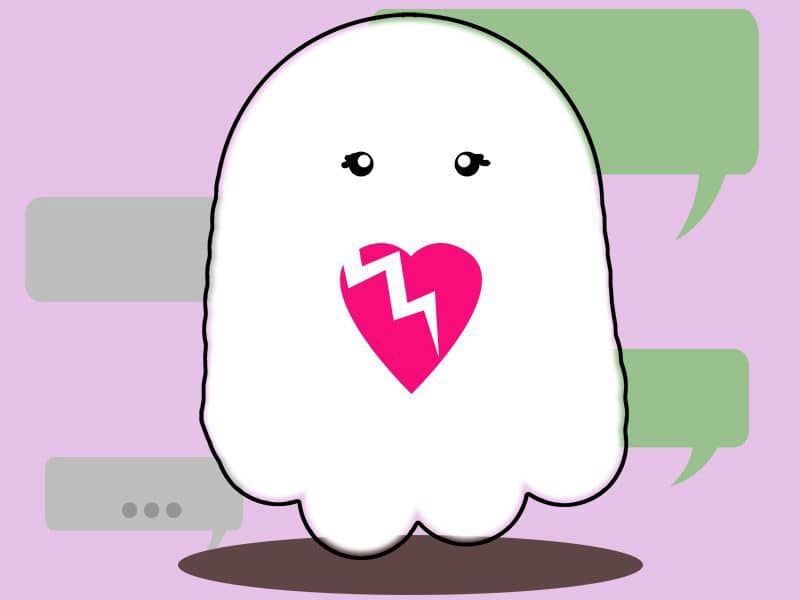 This is the unfortunate, common way people our age date now; we are a generation of ghosts. "Ghosting" is the act of abruptly ignoring someone completely in hopes of getting them to forget about you and leave you alone. You don't give them any reasoning, explanation or closure, you simply try to make yourself disappear from their life, which often includes blocking their number, their social media accounts, their dating app profiles and avoiding them in-person at all costs. While ghosting is very immature and just plain cruel, it has become the new normal for young people these days. It is much easier to just ghost someone than to have to explain to them why you suddenly don't have any interest in them. No one wants to own up to hurting someone else's feelings, so it's much easier to just click "block" and hope the other person gets the hint and goes away.
The world of dating has come a long way from leaving love notes and taking someone out to dinner and movie, earning a kiss on the third date and then meeting the other person's parents. We live in a hook-up culture where meeting people has become painfully easy. Many people would rather just get a quick fix with strangers they met online than go on proper dates and develop a real relationship that is not just about hooking up and leaving when it is over. Of course, not everyone has ghosted someone else before, but we have all felt what it is like to be ghosted and it's not fun.
If you are just looking for a hookup and are not interested in finding a partner, at the very least have the courage to tell anyone who wants to meet you that before you ghost and hurt them. They say whatever negative energy you put out into the world you get back ten-fold, so to all you professional ghosts out there who still actively meet people then abandon them cold turkey, you might be able to avoid the people you hurt, but you can't escape the karma that's coming your way.